Countdown to May 17 2012 – D-DAY
21 Reasons We Love 2NE1! 
Time moved fast. May 17th 2012-  the day Blackjacks celebrates 2NE1's 3rd Anniversary! May 17th marks the day our girls first killed the stage and had us all falling madly in love with them! While some Blackjacks have been around since the 2NE1's pre debut, others have only just discovered the magical experience that is 2NE1. But whether you were there from the beginning or are a new fan, we all love 2NE1, nothing else matters. Either way we are all here to support our favorite YG Ladies! This article will list 21 special reasons why we Blackjacks LOVE 2NE1! Let's begin!
1. 2NE1 Are Fashion Icons!
Our favorite ladies are icons when it comes to the fashion world! From crazy fashions to classy stylishness, our ladies never fail to amaze us! However, we have to admit some of the stuff they wear can only only be pulled off by them alone (because we all know that if we tried to wear it we wouldn't't look nearly as fabulous) Our ladies are responsible for a lot of trends! We're always looking forward to what they'll do next! And you can bet they'll look AWESOME wearing it.
2. 2NE1 Always Encourages You To Be The Best You Can Be!
Let's all be truthful here! When you watch 2NE1 achieve their goals and work hard (and look beautiful doing it) there is that sudden rush of hope and courage that rises in your chest. Suddenly you're encouraged and inspired and all you can think is "I can do it too!" Yup 2NE1 can have that effect! We are all aware that it wasn't easy for Bommie, CL, Dara or Minji to make it where they are today but when we Blackjacks look at them we know that as long as we keep doing positive things and keep a determined mindset we can be like 2NE1 too! ♥
3. They Encourage You To Stand Out!
2NE1 is bold, beautiful, confident, cute, lovely, kick butt and amazing! Their clothes and attitudes exude this aura and we can't help but admire that! Sometimes we look to others to inspire us and 2NE1 does a great job of doing that! You can channel your inner 2NE1 member anytime you need confidence or strength, stand out! Be bold! Be you! You'll be like 2NE1 too!
4. You Can Relate To Their Song Lyrics and Emotion's.
Ever have that awkward moment when a song starts playing and you can just FEEL it? Then you realize people are watching? LOL it's happened to the best of us. When it comes to 2NE1 we can always feel the emotion they put into the song's Teddy Oppa lovingly writes. From songs like "Ugly" where we relate to the urge to want to be someone "Pretty" to songs like "I Am the Best" where you're confidence skyrocket's and you can take on any challenge. 2NE1 feel's the music and makes us feel it too!
5.Their Personalities When They Are Together
2NE1 TV was a treat to watch because we got to see how our girls interacted with each other. Boy were we in for a real treat! Bom, Dara, Minji and CL are like real sisters! They joke, laugh, practice, play, dance, sing, and enjoy life together. Often times we hear them talk about how they confide in one another. 2NE1 is a family and one we love to see together!
6. Their Love For Their Fans! Us Blackjacks!
There is no denying 2NE1 loves their fans! From the hearts they throw in the air at concert's or event's, to the tears they shed when we show them our support. 2NE1 never forgets to let us know that they care and that we do mean so much to them.
7. How They Treat One Another
When you watch 2NE1 together you often giggle at their antics or grin (or cry) at them (or most often with them) when they hug or express their fondness for one another. It's hard to deny one of the highlights of being a Blackjack is watching Bom, Dara, CL, and Minji together!
8. Their Stage Presence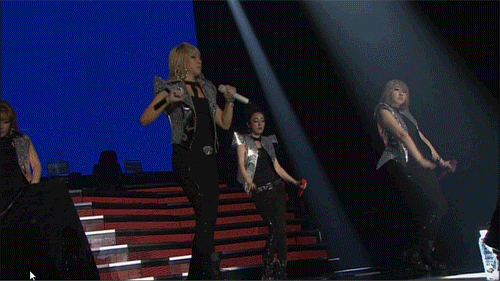 Watching 2NE1 perform is an experience! If you've gotten to see them live you know this! But even if you're just sitting by your TV and watching them you can feel their excitement and confidence! When they preform they become different people! Shy Dara becomes alive with energy and smiles, Bommie becomes a Korean Beyoncé (remember that Blackjacks?) Maknae Minji becomes powerful and sexy and CL becomes the Baddest Female to ever grace the planet. Who else lives to see them perform? We sure do!
9. Their Closeness
Didn't your heart melt when you saw the gift CL had lovingly given to her team members? From friendship bracelets to friendship rings we all know that they are super close. Sometimes we see Bom and Minji hugging or playing around like two young sister's other times we see CL and Dara the newlyweds (LOL) talking and cooking. Either way whenever we see them all together or showing their love for one another we can't help but squeal. ♥
10. They Aren't Afraid To Work Hard
Work Hard Play Harder! Whenever our favorite ladies are gearing up to go out into the world they put in a lot of effort! Remember when they were preparing for their Japanese promotions? Leader CL had learned her parts while Bommie, Dara and Minji sat and continued to prepare? Or how about watching their dance practices and seeing just how hard they work, even though sometimes they can be deathly tired? Despite that, when 2NE1 is done with hard work it's time to play! And that's when they tear up the stage!
11.Bommie's Personality
Park Bom is the vision of everything beautiful! Her personality is always relatable. She loves everything fabulous and loves the idea of love ♥ But just because she's the oldest doesn't mean she isn't full of energy and she never fails to be totally cute! Bommie Unnie is just like her name, Spring is a time of beauty and renewal and although sometimes it may rain (because sometimes Bommie gets sad too) spring is an enjoyable time and it's beautiful. Bommie will never fail to be our caring, cute and flawless Goddess ♥
12. CL's Personality
Isn't she just the best? Our favorite leader has a wide range of personality traits. From motherly, to budding wife, to cutesy, to total confident kick butt leader. Watching her be her is a joy! CL makes you fall for her with her ability to switch it up and no matter what role she's playing you can always bet you'll be smiling at her. Being the second youngest CL has her times where she can be 100% charismatic and totally kawaii! ♥ but put our Baddest Female in some high heels and fierce makeup and you've got one spicy female! CL will always be our favorite leader!
13. Dara's Personality
Make way the vitamin is coming through! Dara is energetic and ageless, bouncy and classy, beautiful and yet sometimes you'd swear she was the Maknae instead of Minji! Dara never fails to make you smile. She has a kind heart and she never fails to update us Blackjacks via her Me2Day account. Dara is easily lovable and with her bright smile and amazing energy you can always count on her to make you feel Alive. Dara is the kind of person you'd want to get to know and although sometimes Dara is painfully shy it's just another reason we love her. We'll always look forward to her crazy styled hair and bright and beautiful smile!
14. Minji's Personality
Who has the best Maknae by far? 2NE1 does! Minji is developing into a beautiful young woman who can go from zero to sexy in no time! Not only is she effortlessly full of swag but she always manages to show us her cute side (and with long hair can you say Mulan look alike?) Minji never fails to stand out with her brightly colored hair or twitter updates. She also uplift's us with her faith filled tweets. We all love Minji's obsession with Gundams and Chopper from One Piece. But our favorite quality of Minji's? Her immense love and care for her Unnies, Sunbaes and of course babies and puppies! (Dougie especially) <3 Can she be any more amazing? Only time will tell for our Maknae Princess!
15. Bom's Barbie Doll Beauty!
Admit it! If we all had a body and legs like Bommie we would wear tight short dresses and high heels all the time too! Bom is a life sized Barbie doll. From her long perfect hair and long lean leg's to her pout and big beautiful eyes. She makes boys and even girls swoon over her beauty. Barbie is even jealous of Bom. And she should be, Bommie is absolutely 100% beautiful!
16. CL's Confidence!
If we could all have confidence that CL has the world would be a much more competitive place! CL exudes a confidence all her own and whenever she hit's the stage we can't help but think that she's the Baddest Female worldwide! With her stunna (hip hop language for bling bling or stunning) shades on and her outfit's matching her fierceness CL is like a lioness and she's never afraid to charge right into a challenge or any stage worldwide!
17. Dara's Amazing Energy!
Dara is a bright spark of a person! Nobody can deny that she's like a burst of energy, she lights up any photo or stage with a youthful energy that only she seems to have! Not only is she beautiful and seemingly flawless, but her kind heart radiates an energy all its own. She uplift's her fellow members and makes sure that they are always ready to play and have fun. Dara is also equally funny along with her partner-in-crime Bom. When the Park sisters unite, the energy is boundless. Dara is like the sun, bright, beautiful and full of warm energy!
18. Minji's Dancing Skills!
Can't touch that! Minji is a dancing queen! From popping and locking to dropping it like it's hot. If you thought you knew what the best looked like you haven't seen Minji dance! Her dancing mirror's Usher, Chris Brown, and Beyoncé and we all know if it came down to it she could keep up with them too! We've watched Minji grow as a dancer and through Minzy TV we've gotten to watch her kill the dance floor and bust a move like its nobody' business! We have no doubt Minji will continue to sky rocket as a dancer!
19. As individuals they fit together like a puzzle!
Sometimes two people are meant to be. How about four people? Like 2NE1! Together they make up one of the most successful and widely loved girl group. But what makes them so loved? The simple fact that they almost seem to belong together as a group. They say fate plays a part in everything, well then it must've been fate that brought them together. It's just a feeling you get looking at them. They belong where they are and fit together like a puzzle. Who can disagree? ♥
20. They always thank us Blackjacks

Minji, Dara, Bommie and CL always thank us Blackjacks for the support and the countless gifts we've sent. From Minji tweeting her thanks to YGLadies for her DJ set and birthday cake, to Dara actively using her sweatshirts and uploading pictures with them on even marveling at the beauty of the cake's YGLadies have sent. Bommie also sends us her written messages of love thanking us for making her feel special and happy and CL (even if she doesn't tweet or update her Me2Day often) sends us all warm wishes and love (Dara said CL threw a happy fit on her birthday from all of our well wishes and love) It's clear our ladies love and enjoy our support and thank us as much as they can ♥
21. It's Hard NOT to LOVE 2NE1!
2NE1 can capture anyone's heart super quickly even if they don't admit it right away. 2NE1 makes you love them with all of their charms and talent. Even if at first you thought "I don't like them all that much" or "they aren't that great" those thoughts quickly changed to "I love them!" and "OMG they are amazing!" 2NE1 is a super lovable group and with great music and a lot of charm you can't help but like them. Us Blackjacks know how amazing 2NE1 is and know that continue to support and love them! ♥
Tells us why YOU love 2NE1?
Be sure to check out all our other 3rd Anni Countdown articles:
[D-10] "…and so it begins"
[D-9] "A debut stage like no other"
[D-8] "One performance per week"
[D-7] "Winning awards since Day 28"
[D-6] "Take A Bow 2NE1! But Don't Say Goodbye!"
[D-5] "2NE1: Gearing to take the world on"
[D-4] "2NE1TV: An intimate insight into the lives of 2NE1"
[D-3] "Lets Play Blackjacks" – 2NE1′s First Solo Concert"
[D-2] "2NE1′s style-volution: From hip-hop to rock chic and everything in between"
[D-1] "2NE1′s Pursuit of Individual Passions"
Source: YGLadies | Tumblr Users
Article and Photo Manipulaton by: xo2NE1_Nolza & staff@ygladies.com